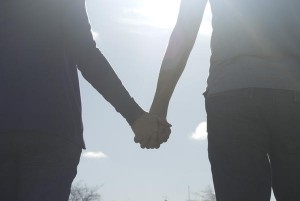 Sometimes, the saddest days are followed by the very best, amazing days.
In my last post, I shared a personal experience that taught me to focus on that which matters most.
That tragedy happened on November 5th.  Each year, that date looms on the calendar and I dread it.
But, in a strange and beautiful coincidence, one of the darkest days on my family's calendar is followed by one of the happiest.
November 6th is a happy day.
It's my wedding anniversary.  The day that I celebrate being married to my best friend.
My husband is an incredible man.  He was the first person to ever prove me wrong (I love that about him).  I'll never forget the first time he did it:
One night, in the early years, he decided to "help" me make dinner.  Grilled cheese and tomato soup.
I always made grilled cheese by buttering the bread and then placing the bread it in the skillet.  Cheese and another slice of buttered bread went on top – flip – done.
Never had any complaints.
The problem was the butter.  If we had soft, spreadable butter, it was easy.  But trying to spread butter right out of the fridge was awful.  The bread looked like it had survived a warzone by the time I got done shredding…er…buttering it.
So my happy husband decided to make grilled cheese.  He got everything out, and then reached for a knife.  But he did not butter the bread.  He put a pat of butter directly into the skillet instead.
"What are you doing?" I asked quickly.  "You have to butter the bread."
With a twinkle in his eye that I cherish more than any work-of-art, he said softly, "Why do I have to butter the bread?"
He kept smiling and glancing up at me as he placed the bread into the pan of melted butter and moved it around slowly to absorb the buttery goodness.
I continued to protest, telling him how the bread would be soggy and that he was ruining the sandwiches.  But, I was smiling a little, too.  And he just kept making sandwich after sandwich.  The right way.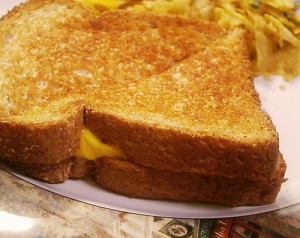 And they were the best grilled cheese sandwiches I ever had.
It was the very best way to stand up to me and my need for bread-buttering control.  He didn't back down.  He didn't criticize me or tell me all the reasons I was wrong.  He just asked a simple question that challenged me….and quietly delivered perfect grilled cheese sandwiches.
We don't have a perfect marriage.  I am not a perfect wife.  I struggle with attentiveness.  I've been critical and distant.  I regret every moment I've wasted moping, over-analyzing and not simply enjoying the moment.  The reminder I experience every November 5th is like a gift.  It resets my focus and reminds me to see what matters most.  And with that fresh vision, I get to "see" my handsome husband – that twinkle in his eye, his quiet persistence, his brilliant mind that somehow manages to challenge me to be better while also embracing me exactly where I stand (imperfections glaring).  
Through tragedy, I gain the gift of perspective.  I let go of "control" and embrace real life.  I gain the ability to see and appreciate my life and marriage for what it really is – a beautiful love story.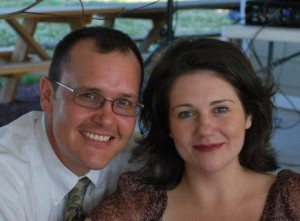 Today, worry less about being in control.  Take time to intentionally learn from those around you who might do things differently.  That might be your spouse, your kids, your boss, your co-workers (or your "enemies").  Taking time to slow down and accept a fresh perspective is a true gift.  Don't wait for tragedy to lend you clarity.  Use mine if you can.  I'd love to hear from you how a fresh perspective helps you move forward in life.
And, if you'd like to share this grilled cheese love story, please do so.  From our heart to yours, embrace life!