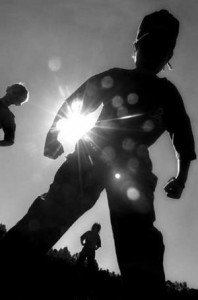 Every day the bell rang and the kids ran to recess.
I walked, partly because the teacher said "Walk, please!" and also because I was in no hurry.
It was Kindergarten, but the playground was the loneliest place I knew.
In the classroom, I had the safety of structure and learning and rules.  Where questions were asked and answered, like neat little transactions.  Pages were colored, stories were read, items were sorted and counted.  These were things I understood.
On the playground, I was alone and it was awful.  Everyone seemed to have friends already.  I felt invisible.  The swings screeched.  The metal slide was always too hot.  There was a strict rule that we were NOT to pick up the woodchips, but everything else was pretty much fair game.  God forbid someone should upset the woodchips.
One day at recess, a boy whose name I've forgotten started teasing me.  He called me names because I have a gap between my front teeth.  I tried to ignore him.  But then he twisted my arm behind my back and tried awkwardly to pin his other arm around my neck.  I shouted, but no one came.  Maybe I should have kicked some woodchips to get some attention.  He continued to call me names.
I shouted, "Let me go or I'll….I'll bite you!"
He laughed and told me that I would never bite him.
Big mistake.
So I did the only thing that seemed logical at the moment.  I bit his thumb (which he was holding foolishly close to my face).
His loud squall for help finally penetrated the teachers' social huddle on the outskirts of the playground.  He was screaming, "She bit my thumb off!  I have no thumb!"
Which, for the record, was entirely untrue.  His thumb was still very much attached.
We were marched directly to the Principals' office and our parents were called.  At the end of a very long lecture, the Principal stood up, leaned toward me and said, in a very ridiculous voice, "How would you like it if I bit your thumb, Elizabeth?"
That was my last day at that school.
No, I wasn't expelled.  But the grown-ups in my life thought I deserved better than a school with bullies on the playground and in the Principals' office.  They fought for me.  I was transferred to a small private school and had (mostly) positive school experiences from then on.
That day, I gained a kind of quiet confidence.  I certainly wasn't a violent kid and never acted out like that again.  But, I did become less afraid to stand up for myself.  Less afraid to take real action when something was wrong.  That day, I learned to be an advocate.
I've faced many more toxic situations in my life as I've grown up and I've learned that biting is generally not a good strategy to overcome them.  But here are a few tips (that don't involve teeth or saliva) that do work:
Be Honest - Take a few minutes for yourself today.  Ask, "What situations am I facing that aren't right?  Who or what is 'bullying' me and/or trying to make me be someone that I'm not?  Why am I allowing this bully to treat me like this?"  Be honest with yourself and write down your answers.
Know Your Boundaries – For me, name calling was irritating, but I didn't start drawing clear boundaries until that boy started to harm me physically.  I should have expressed my boundaries sooner than that, but at the time that was my limit. Once he crossed it, I knew it and he learned it.
Follow Through - Without biting anyone, take action!  What practical steps can you take (or start planning) to move away from this toxic situation?  Be firm, caring and clear on where you stand.  You'll find more freedom and less anxiety.  You might not have to totally leave a situation to see improvement – often expressing clear boundaries improves situations greatly.
I'd love to hear your feedback on how you're overcoming bullies or toxic situations in your life.  We all face them – let's face them together and get life done!  Also, please feel free to share this post with anyone who you think may like it.  I look forward to hearing from you!