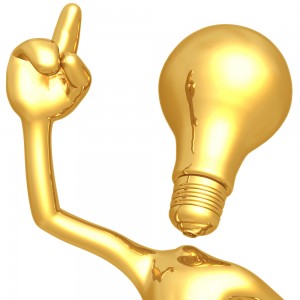 Have you ever had an "aha!" moment where you have a GREAT idea?  I've had LOTS of those moments.  But, what happens next?  How do you make ideas happen?
Here are 5 strategies for turning great ideas into great realities:
Write ideas

down.

 

This is a simple, but scary step.  Keep in mind that NO idea is perfect at first – it will grow over time.  Putting your ideas down on paper is necessary if you want to turn them into reality.  A sketch or a list of bulleted ideas is perfect for this stage.  It's a starting point, not a finished product.  Personally, I use Evernote to jot down ideas/thoughts as they come to me and then go back over them during scheduled review times on my calendar.
Examine your motives.  Every idea comes from somewhere.  Sometimes, ideas are truly inspired.  Other times, ideas can come from an emotional wound or a need for approval.  Those motives don't necessarily mean the idea is bad, but when motives stem from an inner emotional wound, the achieving of that idea will exhaust you.  Take some time to make sure you are pursuing an idea from a place of health.  Talk this out with someone you trust to gain insight into your potential motives.
Get help (and hustle).  Ok, folks.  I'm gonna give it to you straight.  Ideas might come in moments of inspiration, but results come from action.  There are SO many resources available these days.  Your idea is begging you to get some help.  Put some fuel in that engine.  Do some research (and write down or save what you find!).   Talk to people who are doing what you want to do (or doing something similar).  Read (or listen to) books.  Educate yourself as much as you can.
Test and tweak.  Ideas don't start out fully-formed.  They need help to grow into something "real."  The best way to help an idea grow is to test it.  Before a company develops a new product, they test the market.   The key here is to maximize learning and minimize risk.  Tweak the idea based on feedback and the insight you learn from the process.  You might learn that the idea isn't worth pursuing and that's ok – that's part of testing.
Be in charge.  Ideas are like jello – they take time to form and they wiggle a lot.  It takes consistent effort over time to see an idea take shape and become the reality you envisioned.  Use wisdom. Remember that you're still the boss of your idea.  Decide where the idea fits in your life (not the other way around). It might be an idea for a future season of your life.   If you find that the idea was born out of poor motives (see step #2), don't be afraid to let it go as you heal through the inner pain that generated the idea.
What about you?  What's your biggest struggle when making ideas happen?  Leave a comment below – let's talk!