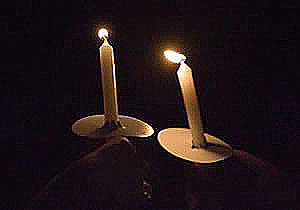 Today's blog is dedicated to my grandmother, Marie Jenny Pisano.  She was an amazing woman in my life who died on November 5, 2011, after a tragic car accident and multiple careless mistakes from medical staff.  Below I share the life-changing experience I had with her before she died.   
**************
The machines.  So many machines.
I enter the room quietly, unsure of what to expect.  The road that brought me here is hazy: phone calls, medical terms, suitcases, plane flights, long hospital corridors.   A fog of emotion has settled in.  This can't be right.  It's not right.  It's not supposed to happen this way.
I walk over to the bed like a timid child.  Something inside me tells me I should speak, but no words come.  My brain does not send words to my mouth.  My grandfather is pacing in the open space at the side of the bed, rubbing his hands together nervously.
Somehow, I get out something really profound:
"Hi, Ria.  It's Liz.  I'm here to see you.  I love you."
She begins to move, trying to open her eyes.  Could it be possible that she recognized my voice?
Suddenly my senses are intact again.  Her skin has yellowed, her body propped up with pillows and connected to machine after whirring machine.  The breathing apparatus in her neck looks painfully uncomfortable.  I cringe at the thought of it being there.  The hard plastic neck brace they've put on her looks like it was made for a person at least a foot taller than her.  Her IV is set to dispense a cocktail of pain medication and sedatives at a moment's notice.  Another device monitors blood pressure and pulse.  The lights are dimmed, but a few windows at the far end of the room let in the bright Florida sunshine, which makes no apologies for its intrusion.
Courage surges and I reach for her swollen hand and gently hold it.  I lean down and stroke her hair and begin to speak to her, telling her again who I am and that I love her.  Words keep coming.  I feel awkward, as if I should know what to say.  But, I don't know what to say.  Because I never imagined, in any scenario, that I would be standing here facing this.
A car accident, followed by a series of careless decisions by the trauma medical staff, left my grandmother's priceless and normally active body nearly lifeless.
I hear myself saying words about my boys, her great-grandsons, and how well they're doing in school, about how happy I am to finally be in Florida with her.  At some point in my stream-of-consciousness monologue, with tremendous effort, she opens her eyes and turns her head from side to side searching for me.
I lean in close and her eyes focus hard on mine.  Her eyebrows furrow slightly, as if she's just waking up from a long nap.
And then, all at once, she's there with me.  As mundane, disjointed words about things like weather and travel and food tumble out of my mouth, I see clearly that our conversation is much deeper.  There's a fabric of connection between us woven together by thousands of priceless threads.  Our life together unfolds in in my mind in just a matter of moments; an experience felt more than explained:
She's wrapping me in a blanket and holding me when I'm just a baby and putting fuzzy socks on my cold feet.
She's telling me stories.
She's taking me to church.
She's laughing and telling me how she wishes she was funny.
She's cooking and feeding hungry people.  In her world, everyone is always hungry and everyone must eat.
She's painting.
She's telling me I'm a wonderful mother when I feel like a perfect failure.
She's reciting Psalm 91 – this time with her beautiful, brown eyes instead of her precious voice.
She's lying in an Intensive Care Unit, her body completely broken, doing what she's done since I first drew breath in this fallen world: comforting me when everything else is shifting.  And I'm babbling about Disney World.
After a long time, I see in her eyes that she is getting tired.  I tell her she should get some rest and that we will still be here.  We gather around her and pray and sing her favorite hymns.  She closes her eyes and sleeps, her breathing heavy and uneven.
Later, I learned that she hadn't opened her eyes and kept them focused like that in days.  The doctors had deemed her 'non-responsive.'  I had flown to Florida because the doctors said her body was preparing to give out.  Weeks later, it finally did.
I will carry those last moments I had with her for the rest of my life.  It was life-changing for me.  In those moments, I saw that her love was bigger than me.  That she had planted seeds of love inside my heart.  There, at the end of it all, I saw that she was watering that love with every bit of will she had left.  That was all that mattered.  To be real and to love.  It made me see that I had been wasting so very much of my time on things that didn't matter at all.
Today, in honor of my grandmother, Marie Jenny Pisano, I ask that you take a moment to reflect on your life.  What really matters to you?  Choose to let go of the things that don't really matter, and take steps toward the things that do.
Call someone you love and tell them how much they mean to you.
Then, please….eat something.  Preferably pasta, meatballs and a nice salad with black olives if you can manage it.  Because my little Italian grandmother is looking down from Heaven today.  And I know she'll want to know that you've eaten.