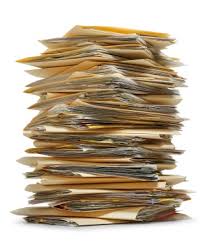 The empty corner where the box used to sit reminds me.
It was a white and green Willamette storage box piled high with layers of "important" papers.  It moved with me over the years, always finding a home in a corner or a closet or a basement shelf.  On the side in big black letters I had written "TAXES 1998." I remember feeling really important when I wrote that, like I was finally a grown-up.
I'll admit that as a now-recovering Type A personality, I quickly outgrew the idea of storing our taxes and other financial papers in a storage box.
What if there was a fire?
I really should file everything in a fire-proof filing cabinet.
As technology evolved, I became convinced that I should scan everything in and organize it electronically.
I had so many ideas about how to store the contents of that box.  But I never seemed to have the time to actually do it.
My obsessive need to organize nagged at me at inconvenient times – like when I was supposed to be "sleeping" or "spending time with family."
Snuggled amidst a pile of small humans watching Veggie Tales for the 389th time, I would daydream about how to deal with all the clutter that comes with a growing family, including the perfect solution for that box.
I would launch great organizational campaigns in our home and make some strides.  But, no matter how hard I tried, I never seemed able to reach the impossible standard in my head.  I would either spend too much time dreaming up "the plan" or become emotionally paralyzed while trying to do "the plan."
The box actually proved to be a great teacher. It represented a bigger pattern in my life. It taught me that my mind is capable of wasting endless hours of my life.  Hours I could have spent doing something that actually mattered.
Each year, we'd have more babies or businesses or survive my husband's military deployments – and file our taxes.  Each year, the contents of my green and white box grew.  I resented my inability to follow through on my "grand ideas" of better organizing things. Eventually, I mastered the art of tossing files into the box with a rebellious "thwap!"
Finally, as time marched on, I learned a few things and did the actual grown-up thing.
I let go of all of my paralyzing grand ideas and just dealt with the contents of the white and green box.  I climbed through every scrap of paper, moved what I needed to a filing cabinet and destroyed the rest.
It took me about 30 minutes.
That empty spot where the box used to be is still a great reminder.
I have learned that I am skilled at planning tasks, but I am also skilled at getting tasks done.
The ONE question I've learned to ask myself over the years is simply:
What is the fastest path to the result I actually need?
I can choose to take time to plan in detail. Sometimes detailed plans are smart.
Or I can choose to ask myself what is the result I actually need…and then simply do it.
Do I need a fancy, itemized filing system?  Or do I just need to be able to locate my tax files once a year or in case of an audit?
By following the path to the result I actually need, I keep things simple, I make more room to be "present" with my family and get more done.
What do you do to help keep things simple and get things done?