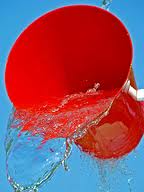 Consistency is one of the unsung heros of getting life done.  An example of the power of consistency showed up in my laundry room late last week in an unexpected way.
As we were finishing up chores one night, my 9-year-old informed me (rather matter-of-factly) that he had not brought the laundry upstairs, "because of the flood."
"The flood?  What flood?" was my calm reply.
"The giant flood of water in the laundry room."
I flew down the stairs and realized that what my 9-year-old saw as a "flood" was actually a decent-sized puddle in the corner of the laundry room that had just started to trickle toward the center of the room.  No real damage done as the floor is a concrete slab.
We cleaned up the "flood" while I discovered that the source of the leak was a valve on the furnace dripping water. one. slow. drip. at. a. time.
I tried to tighten the valve, but couldn't get it any tighter than it already was.  It was such a slow drip.  I did what any self-respecting, tired mom would do: put a bucket under the drip until my husband could get home the next day to fix it.
The next morning, I got up early to tackle some chores.  I had a lot to do to get ready for the weekend.  I went downstairs to get another load of laundry started when my socked-feet were met with an unexpected sensation…wait…was that…water?  (Really, is there anything worse than walking through water with socks on?  OK, maybe there are a few things worse than that…but really?!)
I rubbed the sleep out of my eyes only to see that in a matter of 8 hours, the bucket I had placed under the slow leak was filled to overflowing!  The worst part was that water was funneling out of the bucket spout right toward the furnace and washer/dryer, reaching much further than it had before the bucket was there.  I tried again to tighten the valve, and got nowhere.  So, I did the next logical thing — swapped out the full bucket for an empty one so I could focus on cleaning up!
As I mopped up the mess, I couldn't help but think about how this little drip had managed to multiply itself all over my laundry room.  One, consistent action – a little drip that I hadn't even taken seriously – ended up making a significant impact in my laundry room (and forcing me to pay attention to it for more than an hour).
As I sopped up corner puddles with towels, I thought about life and how we all strive to get more done with less time.  What if we realized the power of consistency in the little things and just kept showing up, moment by moment, doing what we know to do?  What if, instead of looking for a sudden waterfall of progress, we just took small, consistent steps over and over again until we started overflowing our buckets and reaching our own corners of the world?
This simple example caused me to take a look at some areas in my own life and challenged me to get back to the simple power of consistency.  It's no big surprise that the areas of my life where I have not developed consistency are the same areas of my life where I am lacking positive results.
Do you struggle with consistency, too?  Comment below and tell me I'm not alone in this struggle!  I look forward to hearing from you!