Recently, I met a boy who couldn't tie his shoes.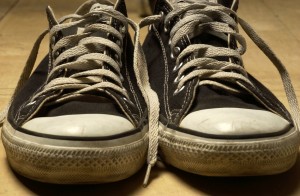 He was old enough to know how, but he still struggled.
I was volunteering in my church's kids' ministry when I met him.  By the time I reached him, he was in tears.  I kneeled down to help and heard an unexpected response:
"No!" he said quickly, "I can do it!  I do karate!"
I let him wrestle with his shoelaces a while longer, speaking softly and encouraging him.
He kept looking up at me, saying over and over, "I do karate!"
As I sat beside him, I realized that his struggle seemed familiar.
In front of him was a task that he felt he should be able to do.  He was embarrassed and frustrated that he couldn't do it. He reasoned that if he was capable of doing something much bigger (karate), he should be able to tie his shoes.
What struck me as even more familiar was the way the boy approached the problem.  He was facing a small struggle in the grand scheme of his childhood, but in that moment, it was a very real struggle for him.
Yet, he avoided the problem altogether.  He fiddled carelessly with the shoe laces.  He looked at me, at the other kids around him, at the wall…anywhere but his shoes.  He refused help and talked on and on about something not related to his problem.
Sound familiar?
I call this the "anxiety snowball."
We start to feel stress about a problem.  But, instead of using the stress as a motivator to deal with the problem…we distance ourselves from the problem and start thinking about the stress and anxiety itself or our inability to solve the problem.  Then we shame ourselves for doing so.  The cycle continues.  The more we stress, the more ashamed we feel and the less we work on fixing the actual problem.
The "anxiety snowball" will prevent you from getting life done, if you let it become a habit.  Don't let it.  Like my young friend, you've got a big life ahead of you – a life worth living and enjoying.
The next time you're faced with a problem, remember these quick tips to prevent the "anxiety snowball":
Breathe - The problem you're facing is not the sum total of who you are.  It may be big, but take a breath and don't let the problem be in charge.  That problem is not the boss of you!  Take a few deep breaths and compose yourself.
Focus – What is the real problem you are facing?  Let go of the emotional uncertainty or shame you may be feeling and think about the actual problem.  In the little boy's case, he simply needed his shoes tied.  But, he was bringing all sorts of anguish to the problem that was not productive.
Ask – Once you've identified the real problem, ask yourself, "What do I need to do or learn to fix it?" If you can't do or learn something to fix it relatively quickly, ask for help.  No one can do everything.  We all have different gifts and talents – reach out!
Have you ever experienced the "anxiety snowball"?  How do you deal with it?