If you immediately fall asleep upon hearing the words, "Project Management," I understand.
I've yet to meet a child who calls out "Project Manager!" when asked what they want to be when they grow up.
In fact, most adults still don't understand what it's about…and why it's actually cool.
(Just to be clear, by "cool" I mean valuable and worthwhile.  Not like "Fonzie" cool.  Because that is a totally different level of cool.)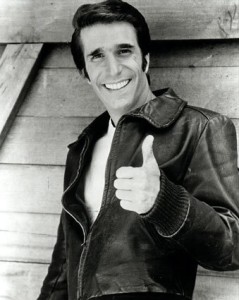 Before we talk about how cool project management is, let's review…
What is a project?
A project is an group of work with a defined beginning and end that delivers a specific result.
A product launch is a project.
Writing a book is a project.
A new church building or campus is a project.
All growth in any company or organization occurs as a result of a clear vision and one or more strategic projects.  I challenge you to give me an example of growth that is NOT related to one or more projects.  If you want to understand an organization's strategy, look at the projects they're planning and spending money on.
Projects are the individual "battles" in an overall war.  Bite-sized pieces of vision-inspired strategy.
Projects matter.  So, shouldn't we do them well? 
Yes.  Yes, we should.
"But how?" you ask.  "How will we do them well, Liz?"
Two words: Project Management.
Project management is a way of working.  It's a collection of tried and true techniques, tools and practices that help get results.  You can try to get a project done without using project management, but it will likely take longer (and cost more) than if you use project management.
And Now…My Top 3 Reasons Project Management is Cool:
It helps you be a rock star.  Project Management is like the X-factor of business.  Is everything in chaos? Let's whip a schedule together.  Does your customer want a status report unexpectedly?  Pull data from your well-built progress measurement tool.  I've never had anyone turn me down for a job because of my project management experience.  It has always been an asset.  People will seek you out when you have project management skills.
It saves time.  When you find yourself overwhelmed with project tasks, don't waste time developing new tools – reach for what already works.  Project management skills are transferrable from project to project – so the more experience you have, the more efficient you can become.
It's a confidence booster.   Leading a project is hard, but meeting project objectives and getting things done feels great.  The ability to coordinate people, money and schedules to reach goals can help you have confidence like never before.  Doing "easy" things doesn't build confidence…stepping up to lead a project (armed with project management skills) is like stepping into battle with the skills to lead your troops to victory.
So, there it is folks.  I'm pretty sure I've proven (without a doubt) that Project Management is cool.
If you're looking to save time, boost confidence or be regarded as the rock star of spreadsheets, leave me a comment below.  I'd love to hear from you!